When the international language school group, Stafford House contacted us about rebranding and redesigning their existing spaces, as well as designing from scratch their new USA/Canada sites from scratch, we were very happy to go back to school.
Stafford House owners, Cambridge Education Group had historically only UK based sites in London, Brighton and Cambridge, but in a bold move to grow and become in international education brand they had purchased international sites in San Francisco, San Diego, Chicago and Toronto.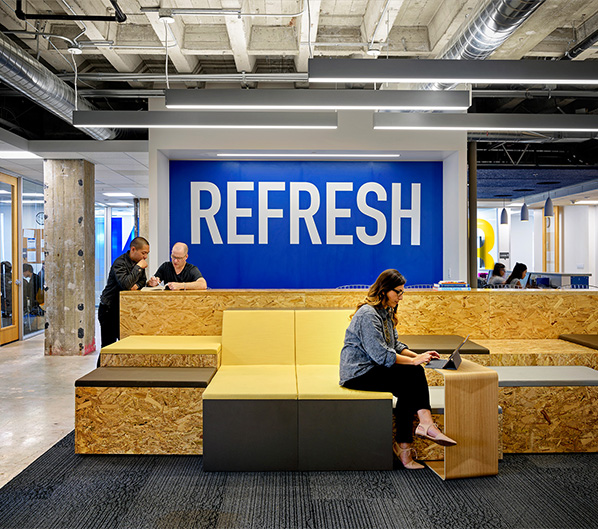 The innovative company wanted to create more of a community for their students, providing a life experience, rather than simply language lessons. Recognizing an opportunity to differentiate themselves, by adopting more of hospitality mind-set for their identity and interior design scheme, they contacted Mystery and US architectural partners, Relativity to help them bring their vision to life.
All too often language schools are rather uninspiring buildings, consisting of generic classrooms, with no real communal spaces or areas where students can just chat, chill, make friends and really enjoy their time in a new country.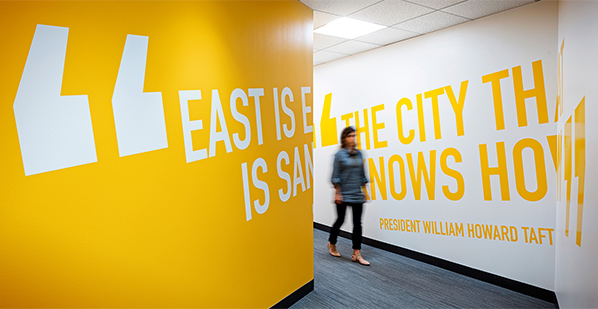 The Mystery team undertook a full brand transformation, from brand positioning, identity and marketing collateral to interior design and developing "The Stafford House Lions", a community for the current students and the alumni around the world.
With a number of schools to re-brand, and some to build from the ground up, each school was designed with a coherent feel, while reflecting the local culture and industry of its location. No matter the building's structure, every space was designed to be bright, inspirational and youthful, yet at the same time comfortable, welcoming and like a home from home.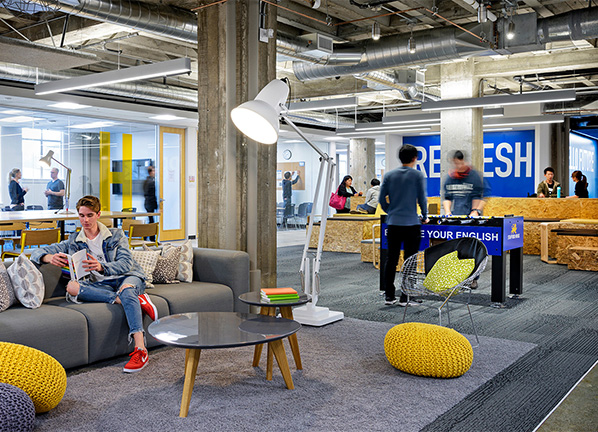 In San Francisco, we were inspired by the city's arcade gaming heritage for many of the design elements; including space invader motifs and oversized, playful, yet comfortable soft furnishings.
The bold, primary colours of the brand identity were toned down for the interiors, with a neutral base of muted greys and subtler shades, with flashes of blue and yellow at key points, such as the reception signage, lockers and the yellow chairs scattered throughout the area.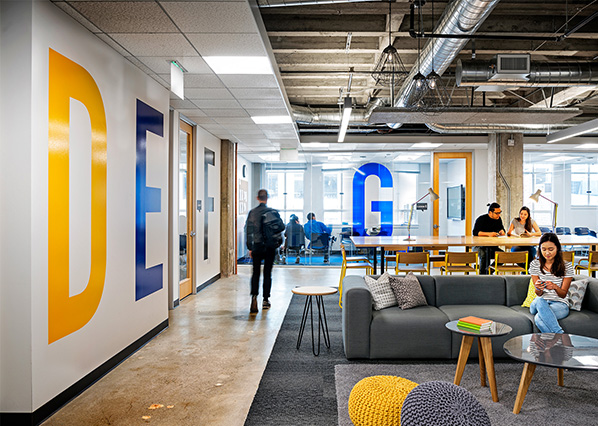 The result is a warm, welcoming and fun space that inspires students to learn, gives them a sense of excitement for their future and gives them a real sense of belonging to a student community, as they would do in a college or university.
Be inspired: Contact us to see how we could transform your space...
SHARE THIS STORY