In a time when the F&B industry is experiencing huge change, how does anyone know what the future is? How do we anticipate trends? How does innovation happen and how do we drive change in the hospitality/F&B industry?
As a brand design agency, it occurred to me that something we don't shout about enough is that we are also a brand incubator with a small portfolio of co-ventures and investments. How do we choose which brands we think will fly, enough to want to invest in them? It's simple. It's all about feelings.
Why feelings?
Feelings are incredibly powerful. They drive the vast majority of customer purchase decision-making. So many people now talk about brand experience, many people believe, as we do, that shared experiences bond people with brands. But what is that bond?
Why do people love certain brands?
We believe it's simply because they make them feel wonderful about themselves.  The important word there is 'feel'. Experiences generate feelings and there are many ways that people can feel great about themselves.
Ask yourself, what feelings your customers experience? What feelings do you want them to experience? Is it the feeling of being at home? Is it the feeling of Escaping? Is it the feeling of being important or successful? Or is it the feeling go being 'in the know'?
Knowing what feeling you're trying to generate in your customers forms the basis of your Brand Vision. At Mystery, we work with companies to help them define a clear brand vision that that informs every aspect of their organisations, creating a totally coherent business and brand experience.
So what are the feelings that drive trends?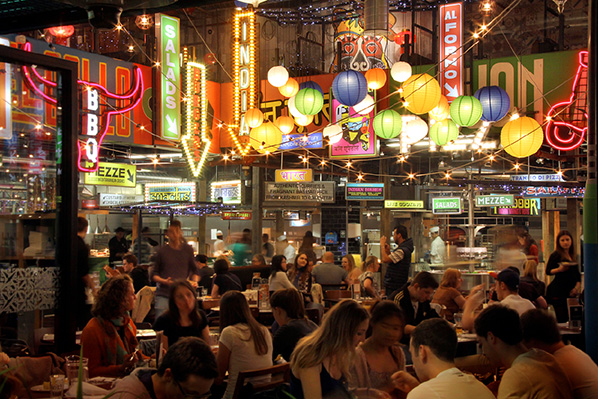 Adventure
We see the rise of Food Halls in America with 16 large scale Food Halls opening last year alone and 4 are in development in LA alone. Food Halls tap in to our Spirit of Adventure.
This is Za Za Bazaar, a food hall concept we helped conceive and design here in the UK. In fact, we've designed two - in Bristol and Newcastle.
Inspired by the Asian Night Markets, we've tried to capture the cacophony of smells, sights and sounds that create that sense of adventure with six open kitchens to help people navigate their culinary journey and enable them to discover different cuisines form around the world.
Hi-Spec finishes and white uniformed chefs offering a wide choice of foods in a variety of urban environment seating areas, create a variety different experiences, but each experience shares the same feeling of adventure.

Belonging
The rise of specialist single product F&B concepts taps in to peoples increasing need for positive reinforcement and a sense of belonging.  That feeling of having your choice reinforced by lots of other people enjoying the same experience creates a tribe of likeminded people.
Bubbleology is one of our co-ventures and an amazing success story so far. In five years we've built 70+ sites, in 9 territories and last year launched 4 corporate sites in the US, which are going really well.
This kooky brand experience and fun product has created an amazing community of customers on Social Media and as a result, we're in talks with a celebrity ambassador who will come on board as an investor this year.
The brand celebrates the joy that Bubble Tea generates and gives people a licence to express their own kookiness.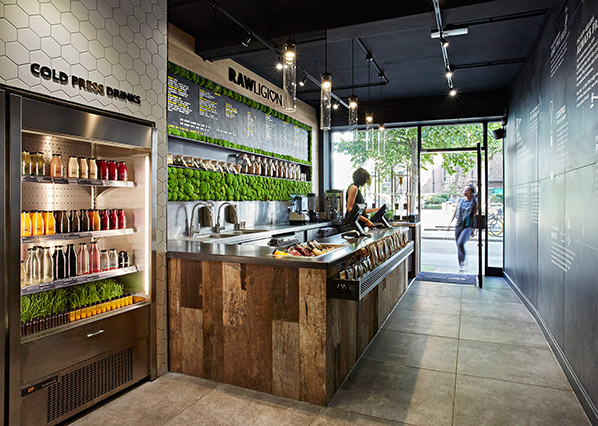 Virtue
There is huge macro trend for healthy eating. In the States, there's already a boom in what I call part-time veganism. And it's starting to take off over here.
What's feeling is helping to drive that trend? It's feeling virtuous. People feel wonderful about themselves when they have been virtuous!
Our amazing client, Rawligion a cutting edge raw food, organic and sustainable vegan concept. Would it survive if it relied solely on vegans? No. But it offers a chance for part-time vegans to nourish themselves and feel virtuous!

Freedom
Over 30% of Americans believe they are Gluten intolerant, whereas the medical establishment reckons the reality is actually less than 5%. Either way, there is a growing market for 'free-from' concepts, especially free-from indulgence.
Why Free-from Indulgence? Because people suffering from allergies want the same feeling of Freedom that they believe everyone else has.
Mystery designed Yorica to hit exactly this feeling of freedom. It's at the centre of the brand vision and at the heart the whole organisation. What's more, the products are so delicious that regular people are lining up to enjoy the free-from ice cream and dairy-free frozen yoghurt treats.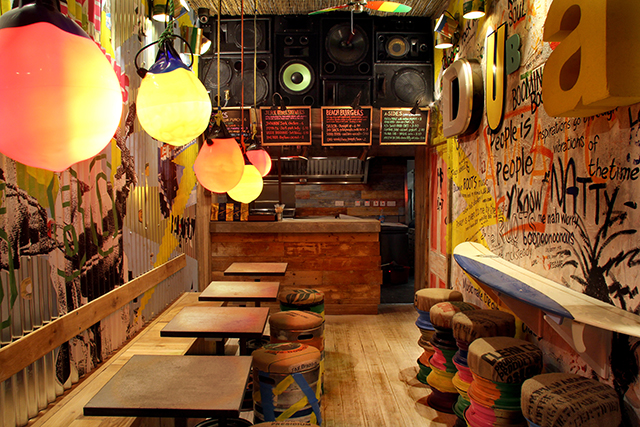 Escapism
It could easily be argued that in today's stress-filled world, escapism is the most powerful emotive trigger for consumer behaviour.
Dub Jam was established to deliver that in buckets! The wonderful reggae music reverberating from the sound system hit your chest when you enter the unit, the smells from the barbecue fills your head and transforms you to another place. A tropical beach. A beach party.
When we were inducting our staff, we told them that although we're selling jerk skewers and rum punch, that's not what people are actually buying. They are buying a beach party experience. "So we can have fun as hosts of the party?" asked one team member. "Irie!" we said. Exactly. So the team has a licence to have fun, they often dance with customers and each other to get the party started.
The design of the unit with it's upcycled and repurposed furniture all help evoke that feeling too.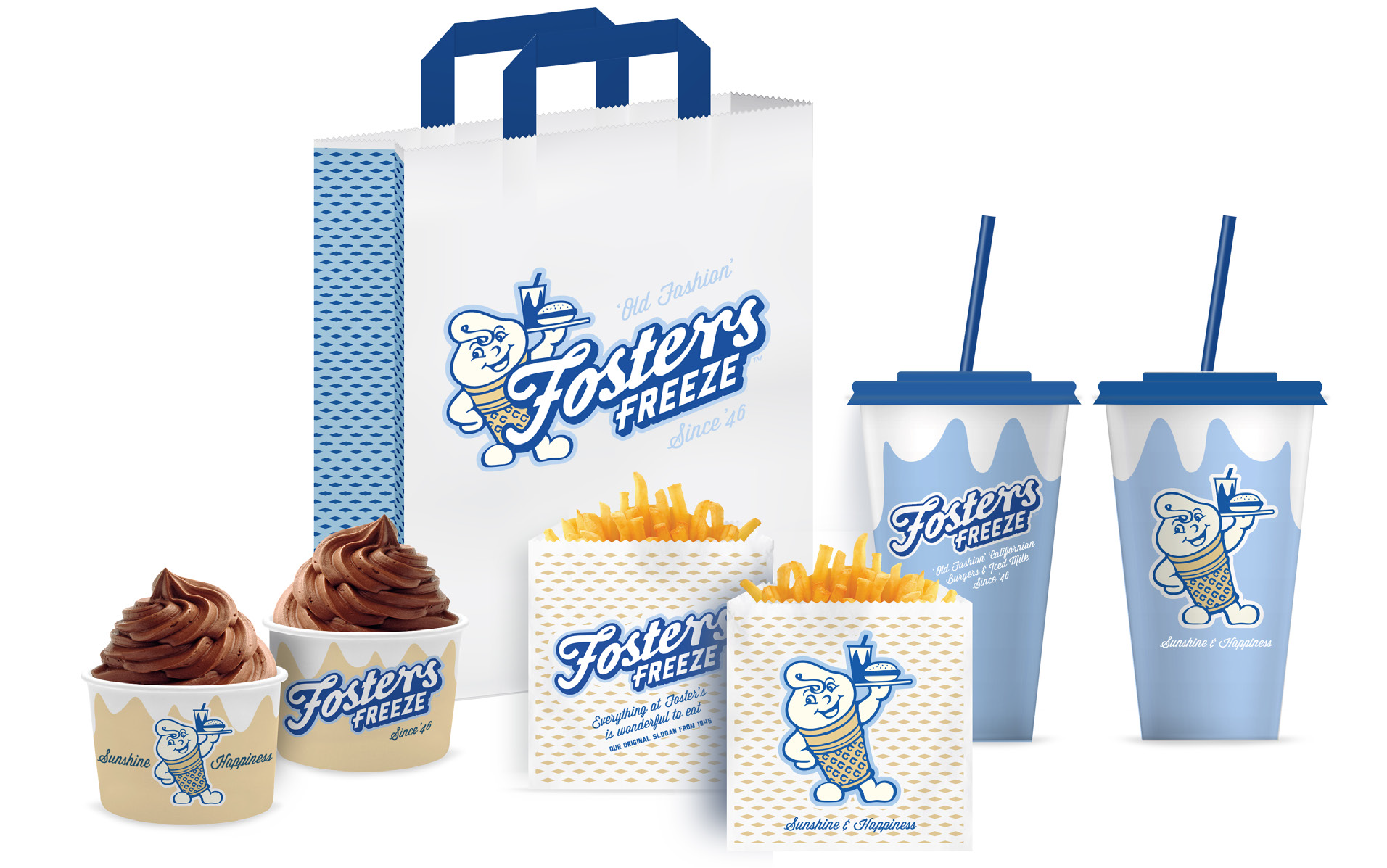 Nostalgia
If there is one feeling that we've seen a rapid rise of in the past 12 months it's the feeling of Nostalgia.
In Britain we saw this with the Brexit vote and in the USA, with the Trump victory. Trump's campaign was built around the central idea of 'Make America Great Again'. The word 'again' taps in to peoples feeling of nostalgia. An exaggerated memory of how wonderful things used to be.
In the US, we're working with a Californian Heritage brand Foster's Freeze. It was lunched in 1946 at the birth of soft serve ice-cream and flourished during the mid-century and grew to over 80 sites in California.
Then, during the last 20 years it has been in decline with less tan 60 units still operating. With a new owner, we have been tasked with helping to revitalise the brand and we're using Nostalgia a central driving force for that mission.
When we spoke to local people, many of them have found memories of being taken to Foster's Freeze when they were kids. Now they don't go so much, as many units are in disrepair, but they remember it with fond adoration. We want to leverage that positive brand equity and build a positioning that looks back to how Foster's might have been.
Inspired by the identity evolution of Fiat cars, we too reverted back to an original logo for Foster's. Inspired by an old photo we found of one of the earliest units, designed in the quintessentially California 'Googie' style of architecture, we have designed a ground-up new drive-through concept celebrating Californian positivity and pushing all the nostalgia buttons.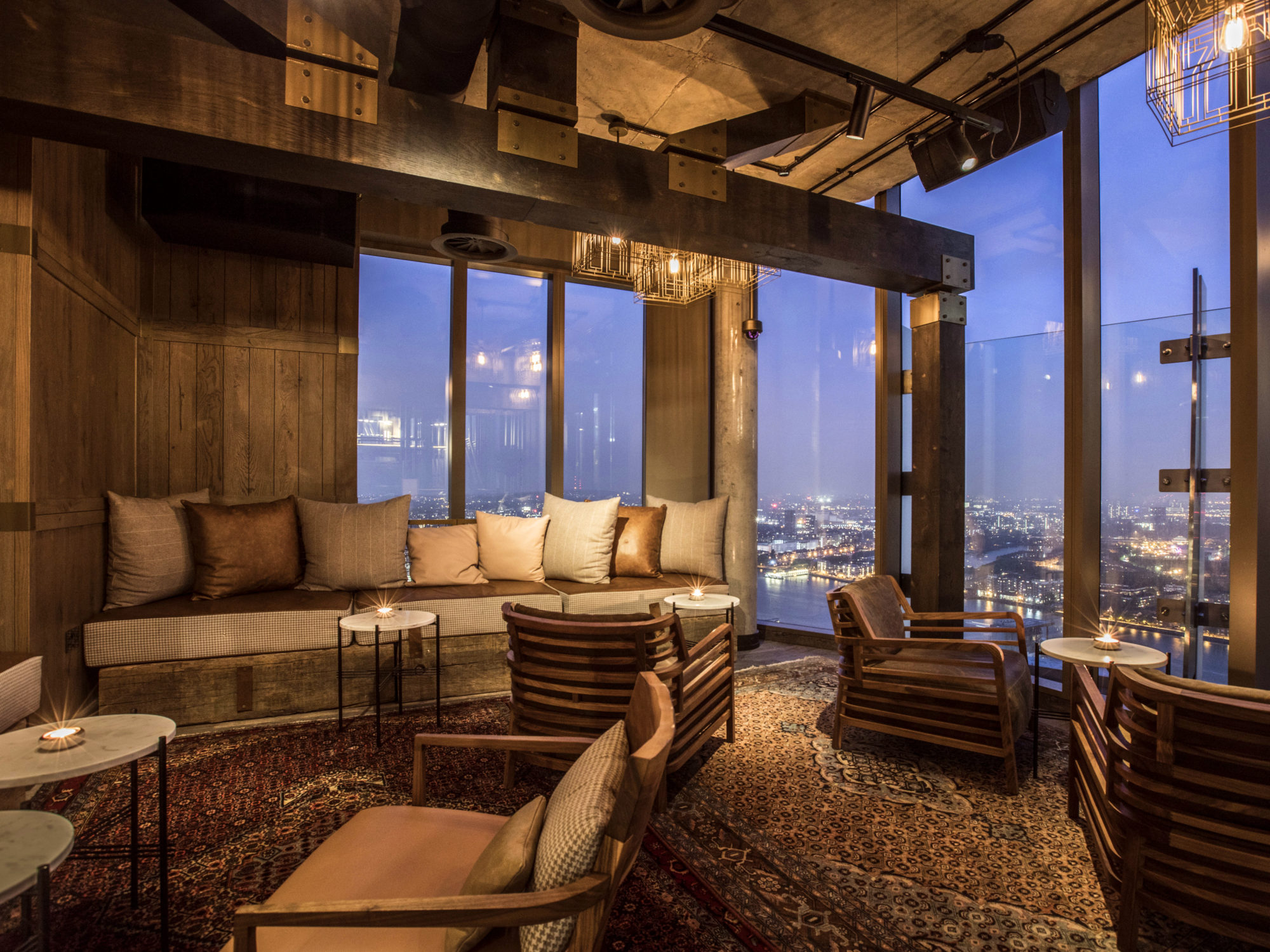 Status
The age old desire for Status is one of the six core human needs and it only seems to be getting stronger for the Millennial generation with the rise of social media. We see it in the growth of the 'premiumisation' of commodities such as tea and coffee. Starbucks recently announced plans to roll-out it's Reserve Brand
We have just launched Coffee Collaborative, a wholesale 4th Wave coffee brand to help multiple operators elevate their coffee experience. Collaborating with coffee industry veterans, we source, blend, roast and supply artisan quality coffee in quantities and prices that multiple operators can work with and also collaborate with artists, writers, designers and chefs to produce creative work inspired by our simple belief that get coffee is the fuel for creative thinking.
Customers align themselves with our creative positioning thereby elevating their creative status by association.
Bōkan is a spectacular, 39-storey restaurant, bar and rooftop we designed in Canary Wharf for Accor's Novotel. It's part of a trend for mid-tier hotel operators to elevate their dining experiences to attract external guests and drive overnight bookings by associating their brand with a great restaurant. This one sits at the top of the Novotel's new flagship skyscraper hotel.
We created a high-end concept with a design that maximises the incredible views from 37th to 39th floors and delivers an experience that elevates the status of the hotel brand to leave customers feeling on top of the world.
Rebellion
The feelings of Anti-establishment are resounding in the States. It's another key feeling behind the victory of Trump as president. Many voters wanted a change. They wanted to remove the establishment represented by Clinton. Rock music has always been anti-establishment and now it's essentially in the mainstream of today's culture.
With that in mind, this year we're launching a new Mystery co-venture - Thunderbird, a craft rotisserie with a Rock'n'Roll attitude.
Built on a desire to push the limits of what's possible in fast casual; to do things our own way; to create the most epic flavours of free-range chicken in the US. So good that it encourages people to demand free-range wherever they go. So good that we take down the establishment battery farms led by consumer demand. We want our customers to join our cause. To feel like rebels and make a difference.
The future of hospitality
What's going to happen to the hospitality sector in 10 years' time?
Ten years ago the iPhone was launched. Prior to that there were no smart phones. No Apps. No Uber, no Airbnb, no Social Media. The technology has changed major categories and created new ones.
Today we stand at the dawn of Virtual Reality. A time with remarkable growth of home delivery. Home delivery is growing 10 times as fast as dine-in F&B.
Combine the two and you get a step change.
It's easy to imagine that in 10 years' time we won't all need to be in the same room for a hospitality conference. We could all be interacting with each other in exactly the same way, with the same clarity of vision, but virtually. Through VR headsets or whatever the future version is, we will be able to avoid commuting and traffic by attending events virtually. It will feel as clear as it does for you right now. But we'll all be spread out around the world.
Imagine how that might affect the hospitality sector. Imagine having some amazing food delivered to you and enjoying a meal out with friends in a virtual restaurant. It could be on top of a mountain, or beneath the ocean. It could even be on another planet! The experience is only limited by our imagination.
So, what's the next level?
Imagine going to a bar - but not as yourself, as your alter-ego, an anonymous avatar! The feeling it generates is taking escapism to whole new level - the ultimate escapism.
Feelings can affect more than trends. They can change lives. As brand owners, considering the feelings we're trying to generate in our customers through brand experience will have a powerful affect on business.  It may even achieve something we never thought possible. Either way, it will be helping to shape the future of F&B.
Dan Einzig. 
Be inspired for the future. Check out our recent projects here...
SHARE THIS STORY